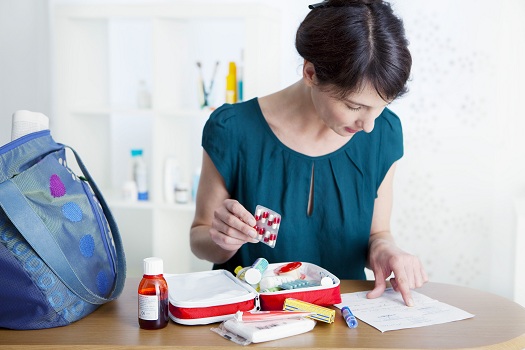 Caregiving entails many responsibilities, and one of the most important of these is to know what to do in the event of an emergency. Whether you're new to caregiving or you've been tending to your senior loved one's needs for years, being prepared to provide first aid can give you greater confidence as you manage your responsibilities. Here are the top things you should do now to ensure your loved one will receive prompt attention in an emergency situation.
Take a CPR & First Aid Class
During an emergency, it's possible your loved one may stop breathing or experience a disruption in his or her heartbeat. Injuries due to a fall or laceration could also require you to provide first aid while you wait for medical help. By taking a CPR and first aid course, you'll know how to care for your loved one while minimizing the potential damage to his or her health. Keep in mind that it's important to practice your skills regularly, and most CPR instructors recommend taking a refresher course every two years.
If you're concerned about your parent experiencing an emergency when you aren't there to help, hiring a home caregiver can give you peace of mind. Many older adults are choosing to age in place, and some need a helping hand to continue living at home safely and comfortably. Luckily, there is professional at-home care seniors can trust and rely on.
Stock Your First Aid Kit
Prepare for minor incidents with a first aid kit full of medical supplies. For a small kit, you need basic items like disposable gloves, bandages, antibiotic ointment, hydrocortisone cream, alcohol swabs, gauze pads, scissors, tissues, tweezers, and small packs of aspirin, acetaminophen, ibuprofen, and naproxen. Store the items in a plastic container. Alternatively, buy an assembled kit, which you can find at any pharmacy.
Although many people have first aid kits in their houses and cars, it's common for supplies to be taken out without being replaced. Take a few minutes each month to assess the first aid kit and add any supplies that may be needed. In addition to adding bandages and gauze, make sure to check the expiration dates on antiseptics and ointments.
Create an Emergency Contact List
In an emergency, it may be necessary to contact medical personnel, family members, and others who can provide assistance, but you may not be able to recall essential numbers while under stress. By creating an emergency contact list, you can quickly locate the phone numbers you need. Place the list in your loved one's home and on your phone, and make sure other caregivers know where it's located. This way, you'll have every possible situation covered so you can provide emergency care to your loved one.
One of the most challenging tasks of helping an elderly relative age in place safely and comfortably is researching agencies that provide homecare services. Oshkosh families can turn to Home Care Assistance for reliable, high-quality in-home care for aging adults. We offer 24-hour live-in care for seniors who require extensive assistance, and we also offer respite care for family caregivers who need a break from their caregiving duties.
Prepare a Bag for Emergencies
As a caregiver, it's important to be prepared for unexpected developments at all times. You should plan ahead and have a bag packed and ready for events such as natural disasters and visits to the emergency room. This bag should contain items such as:
Your loved one's medical information (e.g., conditions, medications, and physician contact info)

A pill organizer with a 7-day supply of your parent's medications

Incontinence supplies

A change of clothing and pajamas

Hand sanitizer and baby wipes

Your first aid kit
Preparedness is an important part of your role as a family caregiver. It's also vital to make sure you set aside time to recharge so you can provide better care for your loved one. In Oshkosh, respite care is a great help to many families. Caring for a senior loved one can be overwhelming at times, which puts family caregivers at risk for burnout. However, an in-home caregiver can take over your loved one's care, allowing you the time you need to focus on your own health, maintain a full-time job, or care for other members of your family. Rely on the professionals at Home Care Assistance to provide high-quality compassionate care for your loved one. Give us a call today at (920) 573-6295 to learn about our flexible in-home care plans.