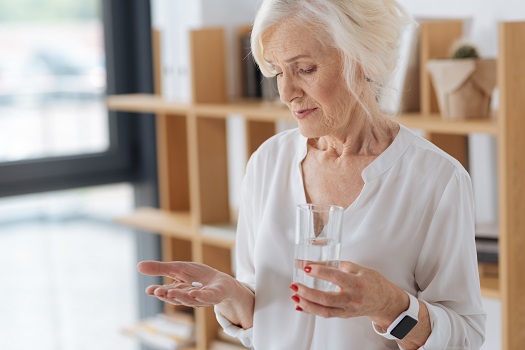 The National Stroke Association reports up to 25 percent of stroke survivors experience second strokes. To recover from the first event and prevent another, seniors must adhere to certain habits. By adopting healthier lifestyles, seniors can reduce their risk of second strokes significantly.
Take Medications as Recommended
The variety of prescription medications an older stroke survivor might be required to take include cholesterol-lowering agents, antihypertensives, and anticoagulants. Taking the medications as prescribed can alleviate the medical problems that more than likely led to the first stroke. Seniors must also make routine follow-up appointments with healthcare providers as recommended. Many medications also require periodic laboratory testing to ensure the medication is maintained at the proper levels in the blood.
Manage Blood Sugar Levels
Excessive sugar in the blood leads to systemic inflammation, which weakens blood vessels. Diabetes also leads to blood vessel narrowing and plaque formation. The long-term effects could cause a blood vessel to rupture from weakness or excessive pressure from internal blockages. Seniors need to restrict their sugar intake. Diabetic seniors must take their medications as prescribed and follow a proper diet.
Eat Better
A diet that routinely includes foods that are rich in fat and sugar elevates LDL cholesterol and triglycerides, which leads to fatty plaque development in the blood vessels. The plaques impede blood flow and have the potential of causing a stroke in the delicate vessels in the brain. Seniors need to eat meals consisting of lean meats, poultry, and fish. Include plenty of brightly colored vegetables and fruits along with whole grains and nuts. 
A home caregiver can prepare nutritious meals that suit your loved one's dietary needs. Caring for a senior loved one can be challenging for families who don't have expertise or professional training in home care, but this challenge doesn't have to be faced alone. Family caregivers can turn to Oshkosh Home Care Assistance for the help they need. We provide high-quality live-in and respite care as well as comprehensive Alzheimer's, dementia, stroke, and Parkinson's care.
Get Active
Living a sedentary lifestyle weakens the entire body. The musculoskeletal system loses mass, which makes it difficult for seniors to stand, walk, or engage in other activities. The cardiovascular system also becomes unable to circulate enough blood through the lungs and the rest of the body to accommodate physical activity. A lack of physical movement also increases the likelihood of developing life-threatening blood clots. Older adults must adopt a means of getting regular physical activity, which might begin with taking short walks. As they become stronger, they might choose to perform cardiovascular and strength training exercises. 
If your loved one needs assistance with exercising safely, consider enlisting the help of a trained home caregiver. Many seniors prefer aging in place over moving to an assisted living facility. If your senior loved one needs assistance to remain safe and comfortable while living at home, reach out to Home Care Assistance, a leading elder care agency. Our dedicated in-home caregivers can assist with meal prep, bathing and grooming, exercise, medication reminders, and many other important tasks.
Lose Excess Weight
When the body carries around more than the amount of weight recommended for the body structure and age, the cardiovascular system undergoes stress, causing heart rate and blood pressure to rise. Many overweight adults also develop diabetes, which also disrupts cardiovascular health. By maintaining a healthier diet and getting sufficient exercise, older adults are able to lose and maintain a healthy weight.
Stop Unhealthy Habits
Smoking or otherwise using tobacco products impedes cardiovascular health. The compounds used to process tobacco are also responsible for elevating heart rate and constricting blood vessels, which leads to hypertension and stress on the heart. If the heart cannot effectively pump blood, blood clots form, and the potential for having a stroke increases. 
Recovering from a stroke, managing the symptoms of Alzheimer's, and a variety of other health-related situations can make it difficult for a senior to continue living at home without someone there to help. Oshkosh, WI, live-in care professionals are trained to help seniors who need 24/7 assistance. With the help of a live-in caregiver, your elderly loved one can maintain a higher quality of life while aging in place. Trust your loved one's care to the professionals at Home Care Assistance. Call one of our dedicated Care Managers today at (920) 573-6295 to learn about the high quality of our in-home care services.