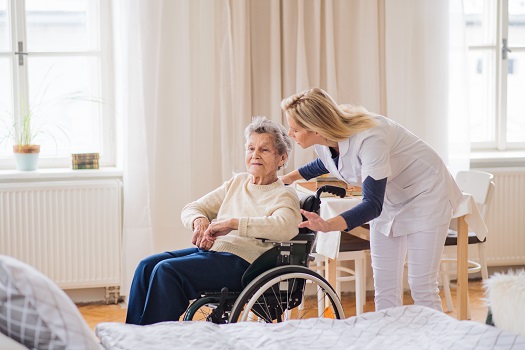 Mobility issues encompass a wide range of changes in how well a senior can move around. Some seniors have mild challenges with mobility that might include being unable to step over objects in their paths, while others may not be able to walk at all. Helping seniors overcome these issues is important for maintaining their motivation to continue on with their daily activities.
1. Keep Them Active
When seniors first begin having mobility issues, their initial instinct may be to stop being physically active. This is often due to a fear of getting hurt. Start by talking to your aging loved one's doctor about what types of exercise are still safe for your loved one to do. Then create a plan to help your loved one feel comfortable exercising. Your loved one may need to try low-impact forms of exercise such as stretching or swimming, but keeping the body moving can help your parent maintain his or her sense of balance.
A professional caregiver can help your loved one exercise at home in safety and comfort. Many seniors prefer aging in place over moving to an assisted living facility. If your senior loved one needs assistance to remain safe and comfortable while living at home, reach out to Home Care Assistance, a leading in-home care agency. Our dedicated in-home caregivers can assist with meal prep, bathing and grooming, exercise, medication reminders, and many other important tasks.
2. Practice Using Mobility Devices
Using a walker or cane comes with a learning curve. Your loved one may need help figuring out how to move his or her body with the device. Certain devices, such as wheelchairs, may also require building upper body strength. Provide assistance during the first few weeks with a new mobility device to reduce frustration.
3. Identify Safe Routes in Public Areas
The majority of seniors with mobility issues don't have to become homebound. Going out for a walk or to the new restaurant in town might require some planning, but it's worth it to get your loved one out of the house for the day. Try scouting out new locations before you take your parent out. You can check for ramps, elevators, and other features that offer more accessibility so your loved one's day out is easier to navigate.
4. Simplify Basic Daily Tasks
A senior who has difficulty walking or standing for a long time might not be able to handle as much as he or she used to at home. For instance, cooking dinner might be difficult if your loved one cannot maneuver through a small kitchen with a mobility aid. Talk to your loved one about which tasks are the most difficult to accomplish. Home care is an option that can help older adults manage the things that need to be done while they learn to address their mobility challenges.
A trained caregiver with experience in caring for seniors with mobility limitations can be a fantastic resource for aging adults and their families. Although it may be challenging to find reliable, highly rated home care, Oshkosh, WI, families can turn to Home Care Assistance. Our respite and live-in caregivers are expertly trained to assist seniors with a wide array of important tasks, including cooking, bathing, light housekeeping, and exercise. 
5. Watch for Changes in Their Abilities
Many mobility issues worsen over time. For example, arthritis symptoms might progress with age or after experiencing a new injury. Parkinson's and other progressive diseases can also require a change in your loved one's treatment and home care plan. Observe your loved one regularly for signs he or she may need to try a new medication or mobility device. Any changes in the symptoms may also mean your loved one needs more assistance during the day to remain safe.
If you're the primary family caregiver for a senior loved one living in Oshkosh, live-in care is available if your loved one's health has become too difficult to manage without professional expertise. At Home Care Assistance, we take measures to help seniors prevent illness and injury by assisting with exercise and mobility, preparing nutritious meals, helping with bathing and other personal hygiene tasks, and much more. Reach out to one of our Care Managers today at (920) 573-6295 to learn more about our high-quality home care services.