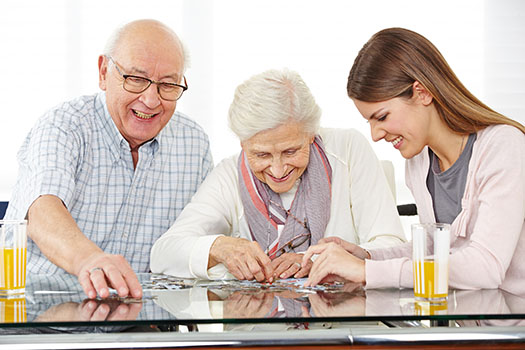 It's important to encourage any older adult in your life to be active and engaged, and this is even more essential if you're caring for a senior loved one with a dementia-related condition. Certain activities are more beneficial than others because they stimulate the parts of the brain that play a role in storing and recalling memories. Below you'll find some activities that are especially helpful for individuals with dementia.
Exercise
Exercise increases blood flow everywhere in the body, including the parts of the brain that handle memory-related capabilities, and it fosters the development of new brain cells. Luckily, there are many forms of exercise older adults with dementia can safely do to enjoy these benefits. Some of the possibilities include:
• Low-impact cardio workouts
• Swimming, water aerobics, and other stimulating water-based forms of exercise
• Walking, which can be done at a pace that's comfortable for your loved one
• Stationary bike or elliptical machine use
Caring for a senior loved one can be challenging for families who don't have expertise or professional training in home care, but this challenge doesn't have to be faced alone. Family caregivers can turn to Oshkosh Home Care Assistance for the help they need. We provide high-quality live-in and respite care as well as comprehensive Alzheimer's, dementia, stroke, and Parkinson's care.
Yoga
According to the website Live Science, a study involving 25 older adults with cognitive impairment showed practicing yoga produced positive results. When the three-month study was over, yoga participants showed more of an increase in the type of memory that involves recalling locations (visual-spatial memory) than the subjects who hadn't done yoga.
Since yoga involves slow, controlled movements, it's not overly strenuous. However, it does increase circulation and mental clarity because of the deep breathing that's part of many yoga routines.
Gardening
Gardening offers a productive and enjoyable way to create a peaceful environment for a loved one with dementia. A garden area can be set up in an easily accessible part of the backyard or even on a patio or deck. The act of regularly tending to a garden can give a person with dementia a sense of purpose. Also, the calm setting could minimize anxiety, which sometimes makes memory problems worse.
Puzzles
Whether it's a crossword puzzle, a jigsaw puzzle, or a logic-based puzzle like sudoku, solving puzzles provides many ways to stimulate the mind of an older adult with dementia. Another option is to create personalized photo puzzles to help your loved one associate meaningful memories with each piece.
A professional caregiver can be a wonderful puzzle-solving companion for your loved one. Aging adults who require assistance with the tasks of daily living can benefit from reliable in-home care. Families trust Home Care Assistance to provide the high-quality care their elderly loved ones need and deserve. Our caregivers are trained to help seniors prevent and manage serious illnesses and encourage them to make healthier decisions as they age.
Music and Art
Stimulating the part of the brain that handles motor movements can trigger positive reactions in the areas that handle reasoning, memory, and comprehension. A fun, engaging way seniors with dementia can achieve this type of dual brain stimulation is by playing musical instruments or engaging in group singing that involves clapping and other rhythmic motions. Artistic endeavors such as painting, sculpting, and drawing can provide similar types of cognitive stimulation.
Cooking
Familiar kitchen aromas often bring back pleasant memories, which is why cooking can be such an enjoyable and beneficial activity for a loved one with dementia. It's also a great way to encourage socialization. You can further enhance the memory-boosting power of cooking by using foods noted for their ability to enhance brain functions. Some of these include:
• Salmon, herring, tuna, and other fish with high levels of omega-3 fatty acids
• Leafy green veggies like broccoli and spinach
• Turmeric, ginger, and similar antioxidant-rich spices
• Dark chocolate, which is loaded with flavonoids that protect the brain
Aging in place can present a few challenges for seniors living with dementia. However, they can still live independently at home with the help of professional dementia care. Oshkosh families can rely on Home Care Assistance to provide their elderly loved ones with mental and social stimulation, timely medication reminders, assistance with meal prep, and much more. Our caregivers are available around the clock to help your loved one live a happier and healthier life. Home Care Assistance can be your trusted partner when your loved one needs help with the challenges of aging. Call us today at (920) 573-6295 to learn about our high-quality in-home dementia care services.